Hello All!
I know, I've been quiet for a while now other than my little Christmas-y posts. Over my break I have been doing a lot of different projects for my room-- moving my desk in, putting up picture frames, organizing, and creating as well! I had an inspiration some time last week (after being given some of my grandmothers jewelry) to make a new jewelry box-- or at least some new way to display/organize the jewelry I actually wear. I searched online and found a few different options which I thought were brilliant. I will share these with you, and then show you what I decided on!
This tea cup idea was so adorable, however I drink tea, and would rather have my tea cups out for use, than in my drawer stashing my jewelry.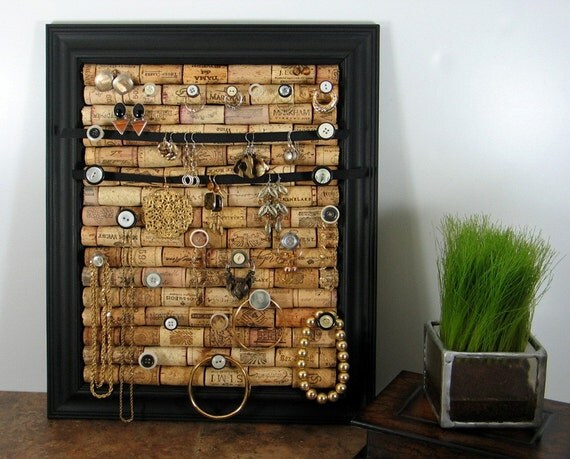 I absolutely adore this cork idea, however I am already making a wine cork board just to have a cork board in my room, so I decided not to go with it.
This one was too awesome not to show you guys, however I have no empty wall place for a necklace tree decoration, so I had to say no.
This one is a lot like the tea cups, and since I did not have any extra plates I could not use this option.
This one I liked, but knew it wouldn't match my room very well (plus I would have to go and look for cool handles... and I was wayyy to impatient to do that)
I did really like this one. Simple. Just stick some tree branches into an antique-ish jar, and voila! You've got it. My problem with it, however, was that in order to keep the branches from rotting/breaking I would have to somehow treat them, and that would have taken quite a bit of research, which I was too lazy to do ;)
So, for the big question! What did I decide? I liked them all but had problems with them all! I then decided to go with the branches... but instead of actual branches, I opted for some wire. And for a cheaper version of wire, I used old hangers. Once I had finished crafting my wire tree, I sprayed it with some Chrome Finish spray paint and... Voila! I got a gorgeous silver-y tree!
And yes, I have a picture ;)
So that is that! I also made my own plates (for the tiered jewelry plate stand) with paper mache and should be posting about that sometime in the future. Enjoy the first month of 2015!